school and workshop on dynamics

with a special session on complexity

pictures NEW!

minicourses:

Lorenzo D

íaz (PUC-Rio)

Dmitry Dolgopyat (U. Maryland)

Giovanni Forni (U. Maryland)

may 5 to 10, 2008

montevideo

special session:

Carlos Beltrán (U. Toronto)
Teresa Krick (UBA)
Gregorio Malajovich (UFRJ)
Michael Shub (U.Toronto)
Mario Wschebor (U. República)
Flávio Abdenur (PUC-Rio)
Mauricio Achigar (UdelaR)
Martin Andersson (PUC-Rio)
Diego Armentano (UdelaR)
Aubin Arroyo (UNAM - Cuernavaca)
Alfonso Artigue (UdelaR)
Janine Bachrachas (Udelar)
Natalia Balmori (U. Montevideo)
Carlos Beltrán (U. Toronto)
Lucio Berrone (IMASL)
Jairo Bochi (PUC-Rio)
Marcus Bronzi (ICMC-USP)
Joaquín Brum (UdelaR)
Mathias Bourel (UdelaR)
Juan Manuel Burgos (UdelaR)
Hector Cancela (UdelaR)
Yaiza Canzani (UdelaR)
Matías Carrasco (UdelaR)
Pablo Carrasco (U. Toronto)
Thiago Catalan (ICMC-USP)
Eleonora Catsigeras (UdelaR)
Kleyber da Cunha (ICMC-USP)
André de Carvalho (IME-USP)
Daniela Demuner (ICMC-USP)
Lorenzo Díaz (PUC-Rio)
Alejandro Díaz-Caro (U.N. Rosario)
Dmitry Dolgopyat (U. Maryland)
Heber Enrich (UdelaR)
Fernando Fernandez (UdelaR)
Marcelo Fiori (UdelaR)
Giovanni Forni (U. Maryland)
Nicolás Fraiman (UdelaR)
Omar Gil (UdelaR)
Juliano Gonschorowski (IME-USP)
Elisa Grin (UdelaR)
Nancy Guelman (UdelaR)
Vanderlei Horita (UNESP)
Walter Huaraca (ICMC-USP)
Gabriel Illanes (UdelaR)
Alejandro Kocsard (IMPA)
Andrés Koropecki (UFF)
Teresa Krick (UBA)
Juan Pablo Lago (UdelaR)
Santiago Laplagne (UBA)
Ivana Latosinski (IMPA)
Pablo Lessa (UdelaR)
Debora Lopes da Silva (IME-USP)
Ezequiel Maderna (UdelaR)
Gregorio Malajovich (UFRJ)
Carlos Maquera (ENS Lyon, IME-USP)
Álvaro Martín (UdelaR)
Matilde Martinez (UdelaR)
Carlos Matheus (College de France, IMPA)
Juan Mendoza (IME-USP)
Fernando Micena (ICMC-USP)
Ernesto Mordecki (UdelaR)
Meysam Nassiri (IMPA)
Juliano Oler (ICMC-USP)
Alejandro Passeggi (UdelaR)
Miguel Paternain (UdelaR)
Mario Ponce (PUC-Chile)
Aldo Portela (UdelaR)
Rafael Potrie (UdelaR)
Carolina Puppo (UdelaR)
Claudio Qureshi (UdelaR)
Franco Robledo (UdelaR)
Tatiana Rodrigues (ICMC-USP)
Waliston Rodrigues (IMPA)
Federico Rodriguez Hertz (UdelaR)
Jana Rodriguez Hertz (UdelaR)
Álvaro Rovella (UdelaR)
Jimmy Santamaría (IMPA)
Jean Venato Santos (ICMC-USP)
Marco Scavino (UdelaR)
Ramón Sellanes (UdelaR)
Samuel Senti (UFRJ)
Michael Shub (U. Toronto)
Daniel Smania (ICMC-USP)
Ali Tahzibi (ICMC-USP)
Francisco Tipán (IME-USP)
Raúl Ures (UdelaR)
Francisco Valenzuela (IMPA)
Paulo Varandas (IMPA)
Carlos Vasquez (PUC-Valparaiso)
José Vieitez (UdelaR)
Humberto Viglioni (IME-USP)
Mario Wschebor (UdelaR)

Federico Rodriguez Hertz
J

ana Rodriguez Hertz

Raúl Ures
please fill-out the following registration form, indicating if you need financial support (hotel including breakfast)
deadlines
february, 5: registrations applying for financial support
april, 5: all registrations
the meeting will be held at Crystal Palace Hotel (click to go to the hotel link), in downtown Montevideo.
Hotel
Crystal Palace Hotel
Plaza Cagancha, 18 de julio 1210
Transportation
there are taxis at the arrival section of the airport. the fare of the taxi from the airport to the Crystal Palace Hotel is approximately $580 (more or less U$S 30). tip is optional and 10% tip is OK.
there is also a van which is cheaper. in order to take the van, please go to the taxi office, inside the airport, in front of hertz car rental. the price is $192 (more or less U$S10)
We thank the following organizations for their generous support:
Comisión Sectorial de Investigación Científica
The Abdus Salam International Center for Theoretical Physics
Proyectos PDT 54/18 and 63/204
PROSUL
sponsors
we also thank the following institutions
CMAT - Centro de Matemática
Facultad de Ingeniería - Universidad de la República
IMERL - Instituto de Matemática y Estadística "Rafael Laguardia"
PEDECIBA Matemática
click on each cell to see title and abstract.
minicourses
Each minicourse consists of 3 sessions of 90 minutes each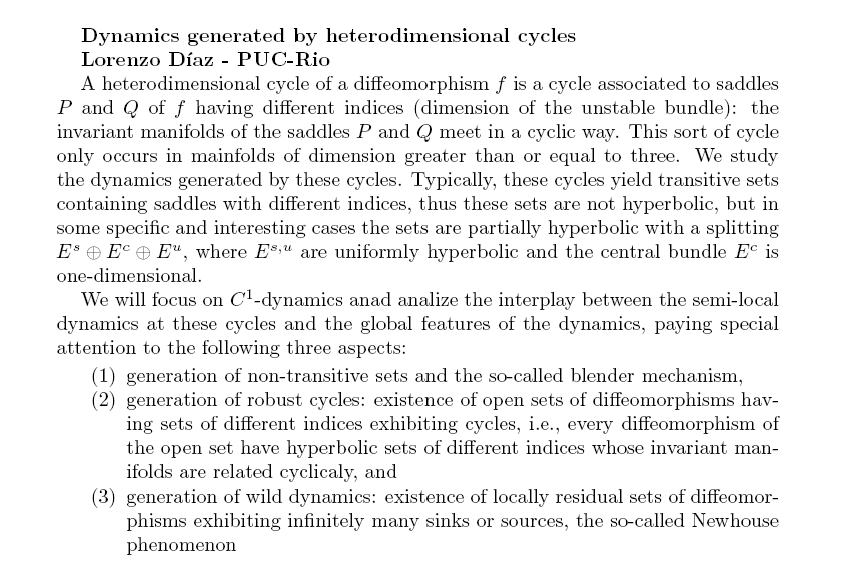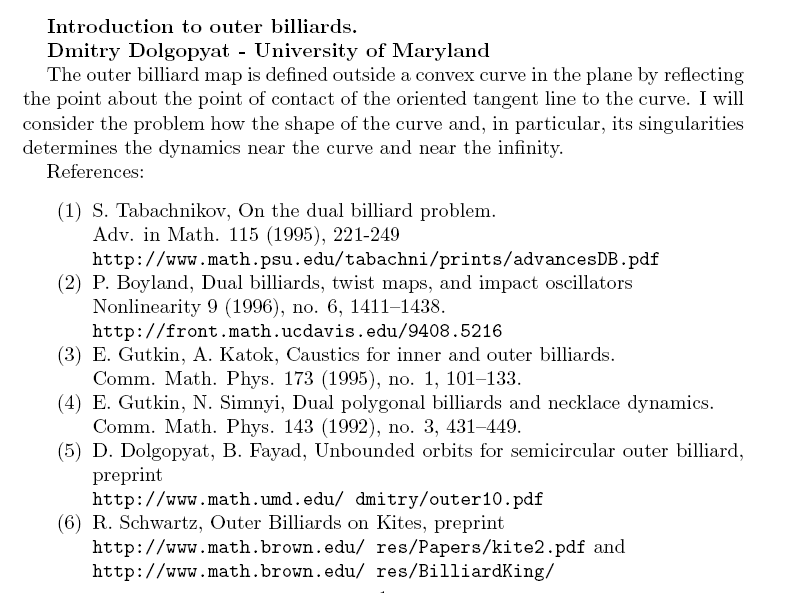 complexity session
The Complexity Session will take place on Wednesday. Each conference lasts 60 minutes.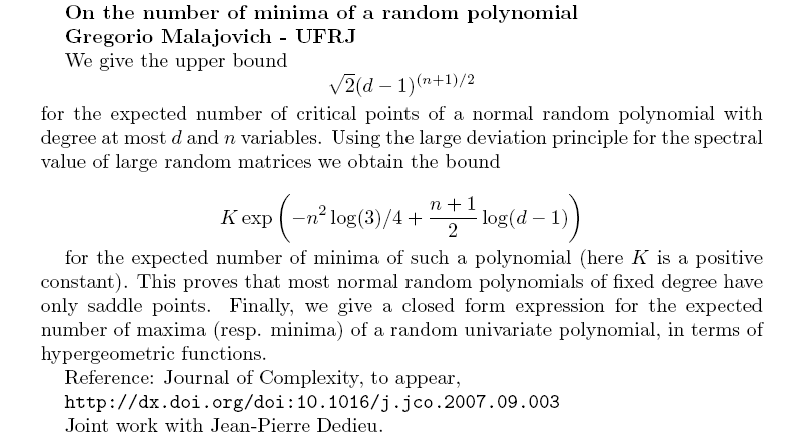 There will be talks every afternoon except on Saturday. Each talk lasts 45 minutes. The talks on Wednesday correspond to the Complexity Session, and they last 1 hour each.
Martin Andersson: "Robust ergodic properties of mostly contractive systems"
Jairo Bochi: "Partial hyperbolicity with zero center exponent for generic symplectic maps"
André de Carvalho: "Riemann origami and convergence of pseudo-Anosov sequences"
Meysam Nassiri: "Non-local Robust Transitivity"
Mario Ponce: "Perez-Marco's invariant for holomorphic skew-products and an open question"
Jimmy Santamaria: "Linear cocycles over partially hyperbolic diffeomorphisms"
Samuel Senti: "Equilibrium measures for unimodal maps: the full negative spectrum"
Daniel Smania: "Smooth deformations of piecewise expanding unimodal maps"
Ali Tahzibi: "A conjecture of Pugh and Shub"
Carlos Vasquez: "u-measures with positive central Lyapunov exponents"