VENUE
The VIII ALIO/EURO Workshop on Applied Combinatorial Optimization will be held at Edificio Polifuncional José Luis Massera, next to the Faculty of Engineering. This is a central location with full access to services such as transportation, lodging and restaurants. The surroundings of the conference venue offer a pleasant environment, including Parque Rodó and the riverside of Río de la Plata.
The access to the building is through the J. Herrera y Reissig street. You can reach the workshop venue either by:
Walking: Most suggested hotels are at walking distance.
Bus: Lines passing by the Faculty of Engineering are 117, 192, 199, 300 and 405. You can pay in cash on-board the bus. Ask for "boleto común", its cost is $ 23.
Taxi: Alternatively you can take a taxi specifying "Facultad de Ingeniería" as destination.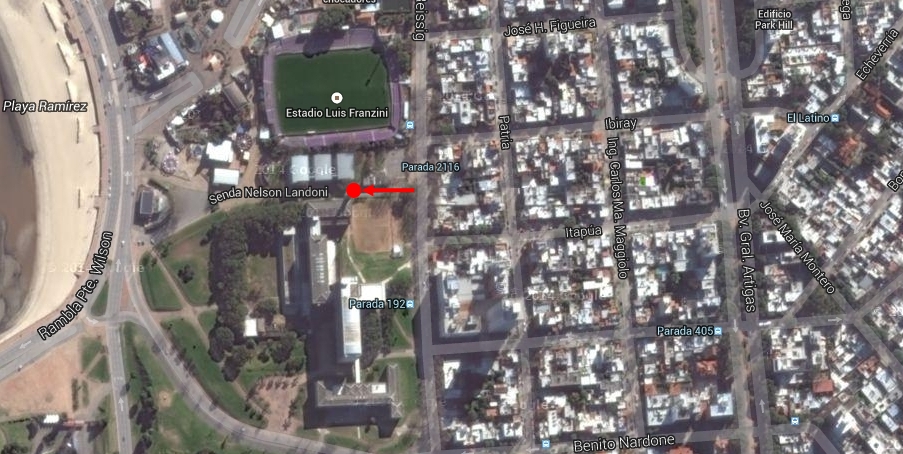 Restaurants
The lunch is not included in the conference fee. We suggest the following palces for lunch:
1- Cafeteria of the Faculty of Engineering
2 - RODELU
3 - Rumi
See the references in the map below. Alternatively, we provide a list of restaurants located in the neighborhoods Parque Rodó and Punta Carretas.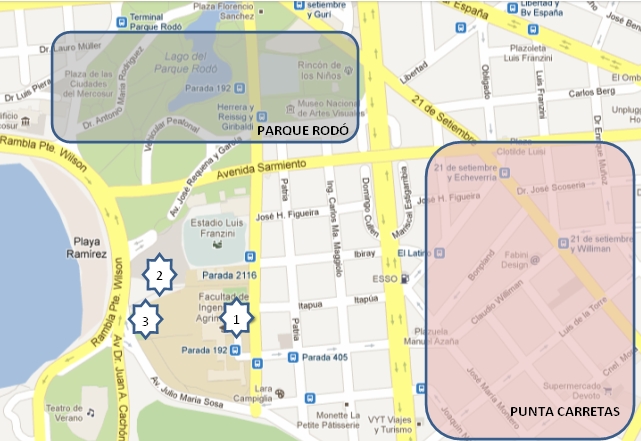 OTHER RESTAURANTS NEAR THE VENUE - PARQUE RODÓ

NAME

ADDRESS

TYPE OF FOOD

Bar Tinkal

Emilio Frugoni 853 Esq. Luis Piera

Chivitos, Quick meals

CaboBar

Bulevar España 2218

International Cuisine, Pub, Restobar

Don Trigo Parque

Requena y García s/n esq. Sarmiento

Barbacue, Pasta, Pizza

El Farolito

Br. Artigas 1079 bis, esq. Br. España

Quick meals, Pizza, Resto-pub

El Mingus

San Salvador 1952 esq. Jackson

Local / Homemade, Mediterranean Cuisine, Appetizers, drinks, Confectionery / Cakes, Resto-pub

El Parrillón

E. Frugoni 924 entre Muller y G. Ramirez

Barbacue, Pizza

Forte di Makalle

Parque Rodó

International Cuisine, Barbacue

Kalima

Durazno 1952 esq. Jackson

Quick meals, Pasta, Appetizers, drinks, Pizza

La Bodeguita del Medio

Luis Piera 2017 esq. Blanes

Contemporary Cooking, Appetizers, drinks, Gourmet Products, Resto-pub, Tapas

La Carola - Tapas y Vinos

Gonzalo Ramírez 2225 esq. Juan Paullier

Spanish, Seafood, Pasta, Fish, Tapas

La Cocina Del Parque

Dr. Joaquín de Salterain 947 esq. Gonzalo Ramirez

Quick meals, Barbacue, Pizza

La Colmena

Maldonado 2182 entre Paullier y Requena

Empanadas, Quick meals, Appetizers, drinks

La Taberna del Diablo Restaurant

Gonzalo Ramírez esq. P.de María

Empanadas, Quick meals, Pasta, Pizza, Tearoom

Living

Juan Paullier 1050 esq. Edil Hugo Pratto

Pasta, Appetizers, drinks, Resto-pub

Los Lobos

Juan Paullier 1137 esq. Canelones

Chivitos, Quick meals, Pizza, Restobar

Los Muelles de Rambla Wilson

Rambla Wilson 650, Club de Pesacadores de Montevideo

International Cuisine, Seafood, Fish

Murano

Av. Julio Herrera y Reissig 957

Seafood, Barbacue, Pasta, Fish, Tearoom

Parrillada El Alemán

Maldonado entre Paullier y A. Diaz

Barbacue

Paullier y Guaná Restaurante - Bar

Paullier 1252 esq. Guaná

Autochthonous meats / Hunting, Fusion, Nouvelle Cuisine, Fish

Piera restobar

Jackson esq. Luis Piera

Appetizers, drinks, Restobar

Pistacho Resto Bar

Acevedo Diaz 1055

Quick meals, Barbacue, Pasta, Pizza, Restobar

Q Café

Br. Artigas esq. 21 de Setiembre

Café / Coffe shop, Tearoom

Restaurante Blanes

Juan Manuel Blanes 997 esq. San Salvador

Café / Coffe shop, Salads, Seafood, Pasta, Fish, Appetizers, drinks, Pizza

Rodelú

Requena s/n

Chivitos, Quick meals, Pizza

Rumi Restopub & Saloon

Rambla Wilson 233 esq. Requena y García

International Cuisine, Barbacue, Appetizers, drinks, Pizza, Tearoom

SOA Art Café

Consituyente 2046 esq. J.M. Blanes

Cultural Café, Tearoom

Su-Bar

Jackson esq. Maldonado

Local / Homemade, Quick meals

Viejo Blanes

Gonzalo Ramírez 2000 Esq. Blanes

Quick meals, Barbacue, Pizza, Restobar

 

 

 

 

 

 

OTHER RESTAURANTS NEAR THE VENUE -PUNTA CARRETAS

NAME

ADDRESS

TYPE OF FOOD

Adolfo Café

Williman 597 esq. Ros

Café / Coffe shop, Artisan Cuisine, Tearoom

Al Forno

Solano Garcia 2421 esq. Lagunillas

Local / Homemade, Contemporary Cooking, International Cuisine, Italian

Almagro

Zorrilla de San Martín 176 esq. Parva Domus

Artisan Cuisine, Barbacue, Pasta, Fish

Amadeo Restopub

Juan María Perez 2747 esq. Berro

International Cuisine, Appetizers, drinks, Resto-pub

Azzurro

Rambla Ghandi 205 esq. Parva Domus

Café / Coffe shop, International Cuisine, Tearoom

Bar Tabaré

J. Zorrilla de San Martín 152

Autochthonous meats / Hunting, Fusion, Resto-pub, Suchi

Barlobo

Coronel Mora 495 esq. Montero

Contemporary Cooking, Barbacue, Pasta, Fish, Pizza

Blás Rincon Gourmet

Plaza de comidas Punta Carretas Shopping ( tercer nivel )

Café / Coffe shop, Chivitos, International Cuisine, Salads, Seafood, Quick meals.

Blue Bay Resto Bar & Parrilla

Gregorio Suarez 2741

Chivitos, Barbacue, Restobar

Bonafide Expresso

Shopping Punta Carretas. Nivel 2

Café / Coffe shop, Confectionery / Cakes, Sandwich shop

Burger King

Plaza de Comidas Pta. Carretas Shopping-Ellauri 350

Quick meals

Burger King P. Carretas

Solano García esq. Víctor Soliño

Café / Coffe shop, Quick meals

Café del Río

J. Zorrilla de San Martín 96

Cultural Café, Tearoom

Café Martínez

Ellauri 499 esq. Montero

Café / Coffe shop, Gourmet Products, Confectionery / Cakes, Sandwich shop, Tearoom

Casa Dulce

Montero 2799 esq. Cnel. Mora

Café / Coffe shop, Confectionery / Cakes, Tearoom

ChiviPizza

Miñones 452 esq. Joaquin Núñez

Chivitos, Quick meals, Pizza

Ciboulette Restaurant-Rotiseria

Williman 579

Chivitos, International Cuisine, Regional Cuisine, Quick meals, Confectionery / Cakes, Delicatessen

Club de Golf - Salón Long Drive

Br. Artigas 379

Autochthonous meats / Hunting, International Cuisine, Mediterranean Cuisine

Confitería Carrera

Shopping Pta. Carretas, Primer Nivel

Quick meals, Confectionery / Cakes

Da Pentella

Luis de la Torre 598 esq. F. Ros

Mediterranean Cuisine, Barbacue, Pasta, Delicatessen

Dharma Bar

García de Zúñiga 2384 esq. Montero

Appetizers, drinks, Resto-pub

Don Ciccio

Bonpland 507 esq. Williman

Italian, Pizza

Don Peperone

Shopping Pta. Carretas, entrada Ellauri

International Cuisine, Barbacue, Pasta, Pizza, Tearoom

El Balcón del Lobo

J. Zorrilla de San Martín 93

Barbacue, Pasta, Fish

El Fogón

Shopping Pta. Carretas, Tercer Nivel

International Cuisine, Barbacue, Pasta

El Viejo y el Mar

Rambla Gandhi 400 esq. Solano García

International Cuisine, Seafood, Fish

El Viejo y Querido Café Almacén

F. Ros 2748 esq. Luis de la Torre

Regional Cuisine, Tearoom

Federici Italian Pasta y bar

Shopping Pta. Carretas, Tercer Nivel, local F5

Italian, Pasta

Francis

Luis de la Torre 502 esq. Montero

Mediterranean Cuisine, Seafood, Barbacue, Pasta, Fish, Suchi

Gran Cantón Chino

Shopping Pta. Carretas, Tercer Nivel

Chinese

Hacienda las Palomas

Shopping Pta. Carretas, Tercer Nivel

Mexican

Havanna Café

Ellauri esq. Montero

Café / Coffe shop, Gourmet Products, Confectionery / Cakes, Tearoom

Hotel Tryp - Sol Meliá

Héctor Miranda 2361 esq. Br. Artigas

International Cuisine, Mediterranean Cuisine, Tearoom

La Barca

21 de Setiembre esq. Scoseria

Empanadas

La Cigale

Cnel Mora esq. Francisco Ros

Icecream Shop

La Creperia

Coronel Mora 521 esq. Montero

Café / Coffe shop, Artisan Cuisine, French, Salads, Appetizers, drinks, Delicatessen

La Criolla

Gregorio Suarez esq. L. de la Torre

Barbacue, Pasta

La Estacada

Faro de P. Carretas

Barbacue, Pasta, Fish

La Gayola

Shopping Pta. Carretas, Primer Nivel

Confectionery / Cakes, Sandwich shop, Tearoom

La Lupita

Luis de la Torre 565

Mexican

La Parrilla

Williman 602

Barbacue, Pasta

La Parrillita

Ramón Fernandez 256

Barbacue

La Pasiva

Shopping Pta. Carretas, Primer Nivel

Chivitos, Quick meals, Pizza

La Perdiz

Guipuzcoa 350 esq. Baliñas

Spanish, Basque Cuisine, Barbacue, Pasta, Fish

La Pulpería

Lagunillas 448 esq. J. Núñez

Barbacue

La Verdad de la Milanesa

Cnel. Mora 553

Chivitos, Quick meals

Las Carretas-Hotel Sheraton

Hotel Sheraton

Autochthonous meats / Hunting, International Cuisine, Tearoom

Lo de Carola

Ellauri 226 esq. Br. Artigas

Contemporary Cooking

Lo de Joaquín

Williman 637 esq. 21

International Cuisine, Barbacue, Pasta, Fish

Mamma Nostra

Cnel. Mora 451 esq. Nuñez

Mediterranean Cuisine, Pasta

Martinez Gourmet

Roque Graseras 797

International Cuisine, Gourmet Products, Confectionery / Cakes

Mc Donald's

Pta. Carretas Shopping-Ellauri 350

Quick meals

Medialunas Calentitas

21 de Setiembre 2982

Café / Coffe shop, Empanadas, Pizza, Confectionery / Cakes, Sandwich shop, Tearoom

Mil Salsas

Shopping Pta. Carretas, Tercer Nivel

Chivitos, Quick meals

Monette - La Petite Patisserie

Maggiolo 499

Confectionery / Cakes, Tearoom

Montecristo Restaurante-museo

Francisco Vidal 636 esq. 21 de Setiembre

Contemporary Cooking, International Cuisine

My Wine Bar

Benito Blanco 674 esq. 21 de Setiembre

Artisan Cuisine, Tapas, Wine bar

One Love

Montero 2683 fte. Placita Williman

International Cuisine

Oro del Rhin Café

Shopping Pta. Carretas, Tercer Nivel

Café / Coffe shop, Confectionery / Cakes, Sandwich shop, Tearoom

Parrillada Punta Carretas

Ramon Fernandez 276

Barbacue

Philomène Café

Solano García 2455 entre Miñones y Ellauri

Café / Coffe shop, Sandwich shop, Tearoom

Pizzeria Trouville

21 de setiembre esq. Vidal

Chivitos, Quick meals, Pizza

Porto Vanila

Punta Carretas Shopping, 3er. Nivel

Café / Coffe shop, Quick meals, Confectionery / Cakes, Sandwich shop

Porto Vanila Caffé

Ellauri 351 esq. H. Miranda

Café / Coffe shop, Quick meals, Confectionery / Cakes, Sandwich shop

Propizzio

21 de Setiembre 2650 esq. Bonpland

Mediterranean Cuisine, Barbacue, Fish

Punta Sur

Williman 504 esq. Montero

Quick meals, Barbacue

Red Lounge

Prudencio Vázquez y Vega 852 y Filgueira

Seafood, Pasta, Fish, Appetizers, drinks, Pizza

Ricci

Joaquín Núñez 2844 esq. Miñones

Mediterranean Cuisine, Seafood, Fish

Rincón Vienés

H. Miranda 2404 entre Ellauri y Br. Artigas

Café / Coffe shop, Gourmet Products, Sandwich shop, Tearoom

Roma Tijuana

Cnel. Mora 553 esq. Gregorio Suárez

Mexican, Pasta, Pizza

Ros/Mora

Francisco Ros 2781 esq. Cnel. Mora

International Cuisine, Barbacue

Sa Cuina

Héctor Miranda 2410 esq. Br. Artigas

Mediterranean Cuisine, Pasta, Tapas

Sacramento

Williman 594 esq. F. Ross

Contemporary Cooking, International Cuisine, Suchi

Seven Bar

Bonpland 503 esq. Montero

Mexican, Appetizers, drinks, Pizza

Sumi Sushi Delivery

Patria 699

Japanese, Suchi

Sushi Go

Roque Graseras 791

Japanese, Suchi

Temaki Sushi Delivery

Joaquín Nuñez 3057

Japanese, Suchi

Terracota

Cnel. Mora 603 esq. Francisco Ros

International Cuisine, Barbacue, Fish

Regency Golf - Hotel Urbano

Solano García 2473

Café / Coffe shop, Mediterranean Cuisine, Nouvelle Cuisine, Tearoom

Zudañez

Jaime Zudáñez 2511 esq. 21 de Setiembre

Pizza, Resto-pub