TRAVEL AND PRACTICAL INFORMATION 
Visa

 A list of countries that DO NOT REQUIRE VISA for entry into Uruguay can be obtained here.
 Possessors of ordinary passport of countries NOT included in the previous list will need visa to enter into Uruguay. In this case, participants are strongly advised to seek information on requirements applicable in their case from Uruguayan diplomatic or consular missions in their home countries at least 15 days prior to the trip.
 The following documents are required:
Valid passport.
A round‐trip airline or bus ticket.
Hotel booking in your name or; name of the host, address and phone number of the place where you will stay.
If applicable, invitation letter received from Uruguay.
Eventually, the Consular Mission may ask for additional information. Please find the nearest Consular mission (Oficina Consular) here.
Diplomatic or Official passport holders are requested to contact the nearest Uruguayan Embassy or Consular Mission in order get additional information of visa necessity.
Those participants, whose flights make a stop in other countries, must pay special attention to the requirements of these countries, since they may need an entry or transit Visa to the country or change of Airport (the latter can occur on flights making a stop in Buenos Aires, San Pablo or Rio de Janeiro).
In case of special assistance to obtain visa, please contact Mr. Gastón Ciganda at the Secretary of the conference.
Mr. Gastón Ciganda
Tel.: +598 2401 0534
Fax: +598 2 401 0534 ext. 102
Email: gaston.ciganda@grupoelis.com.uy
Climate

The meeting will take place in the end of the Uruguayan spring, with temperatures in Montevideo between 15 and 25 ° C.
For more information please check here.
Currency
The official currency of Uruguay is the "Peso Uruguayo". American dollars are usually accepted in main shops. Foreign currencies can be changed into Uruguayan Pesos at banks or exchange offices called "Casas de Cambio".
Banks are open from 1 PM to 5 PM and exchange offices from 9 AM to 5 PM.
The exchange rate in Uruguay is floating free but stable, currencies rates can be consulted at www.bcu.gub.uy
Notes in circulation: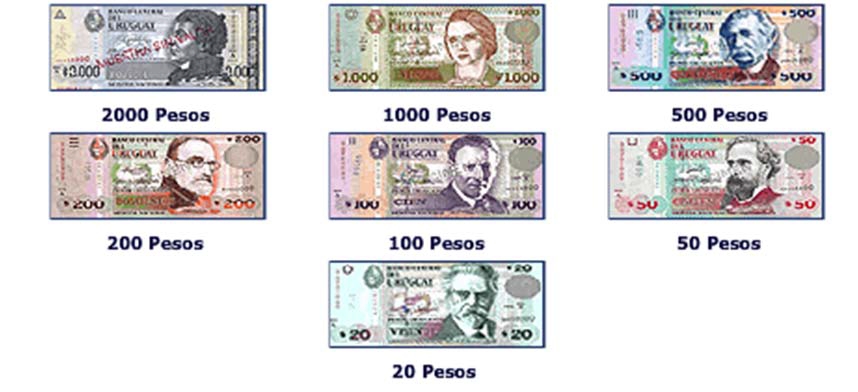 Coins in circulation:

Touristic information
Montevideo, capital city of Uruguay, harmoniously combines modernity and tradition. Ancient architectural treasures such as the Cabildo, the Cathedral and the Gate of the Citadel, architectural styles such as Art Nouveau and Art Deco buildings and modern ones as the Communications Building, provides the city with a unique identity.
The capital's promenade, balcony access to more than 30 kilometres of coastline, is one of the main attributes of Montevideo and a must ride for its inhabitants who often use it to drink mate and for long walks. So are lots of green spaces and parks that allow multiple outdoor options.
Montevideo also has a wide cultural scene. For example, the theatre productions, remarkably extensive and varied, include either classic shows as modern or alternative.
In museums, cultural centres and art galleries you can appreciate the art of a wide range of artists of international scope such as Juan Manuel Blanes, Rafael Barradas, Pedro Figari, Joaquín Torres García, José Cuneo and Ignacio Iturria among others.
For more information visit here. 
Other useful information

Time Zone: Uruguay time zone is GMT ‐ 0300 hours.
Electricity: AC power voltage in Uruguay is 220 V, 50 Hz.
Find below most outlets used: